Ideba Gives Back: Foundation for Sustainable Families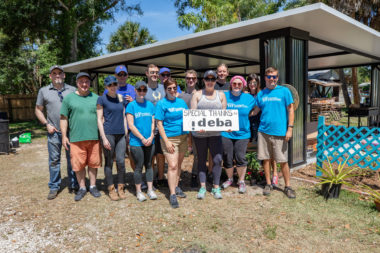 Two weeks ago, we got the whole Ideba team together in Tampa, Florida to visit the Foundation for Sustainable Families. If you've been following us on Twitter or LinkedIn, you probably know that this year, we're supporting this Foundation as part of our Education Initiative.
If you're not fa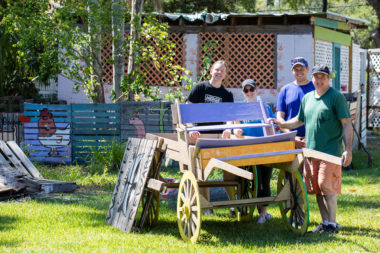 miliar, the Foundation for Sustainable Families is an amazing organization founded by Ashley Rhodes-Courter, who spent nearly 10 years in the Florida foster system. The goal of the Foundation is to provide education and support to families, children and the community through a sustainable farm and access to resources such as therapy and counseling, mental health support, family management, foster care and adoption and so much more.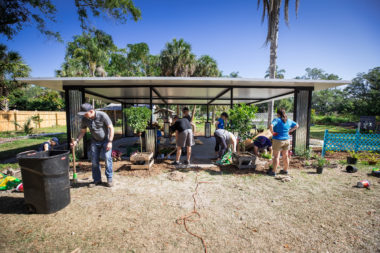 When we arrived on the farm, we found it tucked behind a house in suburban Pinellas Park, Florida. While it was hard to tell it was even there from the street, we were blown away by the amount of farming land and agriculture that we found. From a standard garden with tomatoes and carrots to banana trees and sugar cane, they had it all. There was even an old sugar cane press and a chicken coop.
From there, we took a tour of the farm and got to work. While we were there, we put together a grill, and some picnic tables, planted flowers and mended a fence. Ideba has contributed to building a pavilion on site and it was great to see it in full use while we had lunch at the newly assembled picnic tables.
All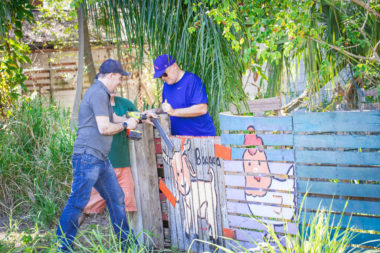 of the Ideba team took a lot away from our time on the farm and were inspired by Ashley and her team's dedication to giving back to the community and to children in the foster system in such a meaningful way. It's great to see how children and young adults alike can get the resources they need as well as learning valuable skills and self-esteem from growing and tending to vegetables, flowers and plants in such a supportive and powerful environment.
If you're interested in learning more, make sure to visit the Foundation's website. Ashley is also a keynote speaker and New York Times Bestselling Author. Check out her books Three Little Words and Three More Words to learn about her journey.
–Jenna Fuchs, Director of Consulting
https://idebamarketing.com/wp-content/uploads/2018/05/SusFarm-Image-Group.jpg
2400
3600
Jenna Whelan
https://idebamarketing.com/wp-content/uploads/2022/10/Ideba-logo-new-130x53-1.png
Jenna Whelan
2018-05-15 08:52:45
2018-05-29 12:35:02
Ideba Gives Back: Foundation for Sustainable Families