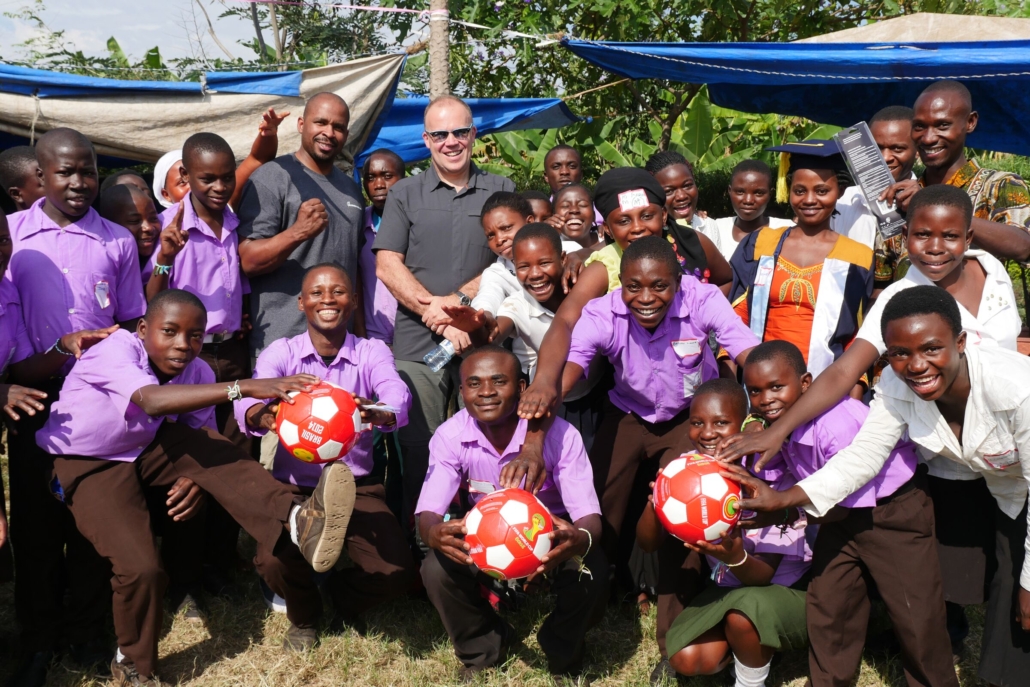 Favorite thing (or things) about Uganda
There are so many! First things that come to mind…
The people – and the connections you make at every level – from people you visit with every year, to the security guard outside the bank you meet for the first time, and share biscuits, and a smile. Realizing the power of that smile, or a small act.
Seeing the shift from a culture of scarcity to a culture of abundance with the introduction of a well and fresh running water and security fences at the school. It changes everything about daily life for students and staff alike. The attached photo from Barb speaks volumes.
And on a very personal note – a true sense of purpose, working closely with Barb and James G not just at the school, but also in the local community – including visits to honor families living in the hills around the school
What surprised me most about Uganda
Their creativity – they can do more things with an old tire, a stick, or a piece of metal than Westerners will ever be able to do!
The sense of eternal optimism in so many – especially the older members of the community who have survived droughts and famines. It's a big dose of reality to reflect on the fact that however hard we think we've got it, there are people that have so little but still find happiness and hope in every sunrise – regardless of how much they do or don't have.
The difference that we can make with a long-term commitment, and how the work that we do inspires many of those we interact with.
What I'm looking forward to most for the 2020 trip
The ability to bring so many different people from so many diverse backgrounds (in the US, Canada and now Aruba) together in support of efforts at the school – many of whom are getting way outside of their comfort zones in the spirit of the greater good; and the opportunity to build meaningful, life-long relationships with everyone that touches the project – visitors and Ugandans.
Sharing the school with others, as you have to experience the school and the people, in order to truly appreciate the magnitude of what's going on there.
Another step in helping the School Director realize his dream of a sustainable school and eco-system, that provides a foundation for students to learn and grow, so that they will not get into poaching.
– David Sly, President
https://idebamarketing.com/wp-content/uploads/2019/09/Davids-Uganda-Blog.jpeg
1600
2400
Jenna Whelan
https://idebamarketing.com/wp-content/uploads/2022/10/Ideba-logo-new-130x53-1.png
Jenna Whelan
2019-09-26 09:08:12
2019-09-26 09:08:14
Uganda 2020: David Sly