Bethlehem – The Christmas City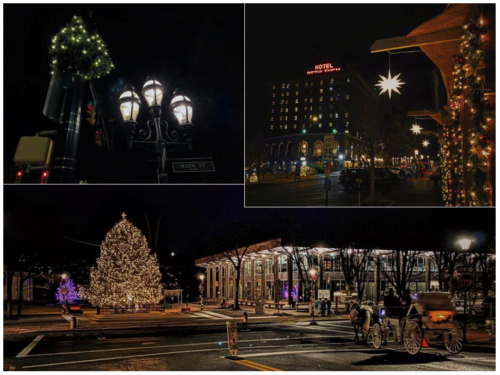 With the kickoff of the winter holiday season, I am drawn to tell you a story about the town I grew up in – Bethlehem, PA, also known as Christmas City USA.
On December 24, 1741, the Moravians, who had settled between the Leigh River and Monocacy Creek in Pennsylvania, were gathered singing Christmas carols. Count Nicolaus Ludwig von Zinzendorf, leader of the Moravian church, was drawn to the lyrics of one of the songs and decided to name the land the Moravians settled Bethlehem! Little did they know that the land they established on that Christmas Eve would become the place of the first documented decorated Christmas tree in America and later be deemed "Christmas City USA".
Bethlehem begins its transition into the Christmas City every November. Streetlights are decorated with small lit trees (top left picture). Bethlehem stars, Christmas lights, and small shopping huts line the streets of downtown (top right picture). My personal favorite is the Christmas tree that is erected and lit next to the public library (bottom picture). The tree comes from the home of a Bethlehem resident, and on the first Friday of December, locals gather to kick off the winter festivities with the lighting of the Christmas tree.
After the transition is complete and our town officially becomes "Christmas City USA", there are many things to see and discover to help you enjoy the beautiful city during the holiday season. On the Northside, there is the Historic Moravian district where you can shop at all the small shops or tour around the museums and historic sites. Along the way, you will stumble across the haunted Hotel Bethlehem and the oldest bookstore in America, the Moravian Bookstore. When you cross the bridge to the South side, you can find the decorated Steel Stacks, the art district, and depending on what days you are there, Christkindlmarkt!
Of course, you don't need to wait for the holiday season to enjoy Bethlehem because there is always something to do year-round! To learn more or if you're interested in visiting the Christmas City, visit this link for more information.
Picture credits: @bethlum.photography on Instagram
-Christina Lavin, Research Analyst
https://idebamarketing.com/wp-content/uploads/2021/11/ChristmasInBethlehem_Nov2021-e1637687034782.jpg
375
500
Jenna Whelan
https://idebamarketing.com/wp-content/uploads/2022/10/Ideba-logo-new-130x53-1.png
Jenna Whelan
2021-11-23 09:02:19
2021-11-23 12:09:23
Bethlehem – The Christmas City