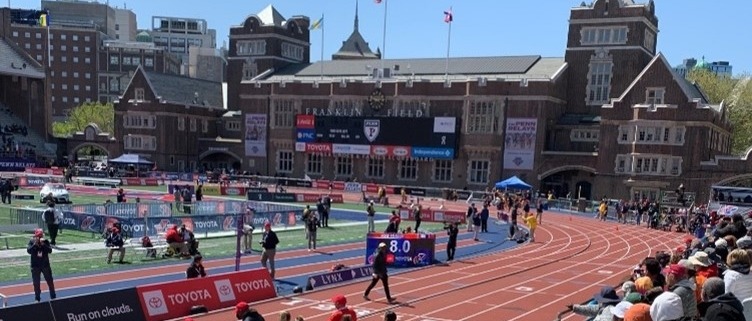 Philadelphia is an awesome city for running and biking, and last week was a big one for runners! Not only was the 10-mile Broad Street Run back again on Sunday – in person! – for its 42nd year, the University of Pennsylvania also hosted the 126th running of the Penn Relays – back after a two-year hiatus due to the pandemic. Before COVID, the relays had run uninterrupted for 125 years, including through both World War I and II. The race is an institution in the city, welcoming everyone from local high school athletes (I went to high school in the Philadelphia suburbs and ran in the 4×100 and 4×400 relays every year) to Olympians, and many Jamaican athletes travel for the event with a notoriously supportive cheering section. You can feel the energy from the crowd in this video of the High School Boys' 4×400 championship race this weekend.
The relays take place on the last Saturday of April and the two days preceding, and it's an annual tradition of mine to go with my father every Thursday to watch the race I was strongest in during high school: the mile relay. It's often breezy and unseasonably cool for late April in the stands, and even all these years later my adrenaline spikes as the heats progress in the most methodical way. This year the races were running almost 10 minutes ahead of schedule on Thursday afternoon, with hundreds of athletes queuing in the paddocks, jumping up and down and kicking their legs to stay warm and loose.
Being in historic Franklin Field absorbing it all is one of my favorite rites of spring in Philadelphia.
It felt wonderful to sit in the sun by the finish line with my dad on Thursday, cheering my head off for my old team, and for one of our Ideba interns (who ran an absolutely incredible race)! I'd really missed the relays during the pandemic, and it was SO excellent to be back. You can read more about the history of the Penn Relays here.
As things finally start to warm up here in the Philadelphia area, I'm wondering – what spring and summer events are you looking forward to? Are any of your favorite events returning after a Covid-related break? I'd love to know!
-Mylène Kerschner, Research and Consulting Manager
https://idebamarketing.com/wp-content/uploads/2022/05/Picture1-1.jpg
681
752
Jenna Whelan
https://idebamarketing.com/wp-content/uploads/2016/03/IDEBA_LOGO_125x49.png
Jenna Whelan
2022-05-03 08:54:53
2022-05-03 08:54:55
The 2022 Penn Relays