Scheduling for Remote Working Success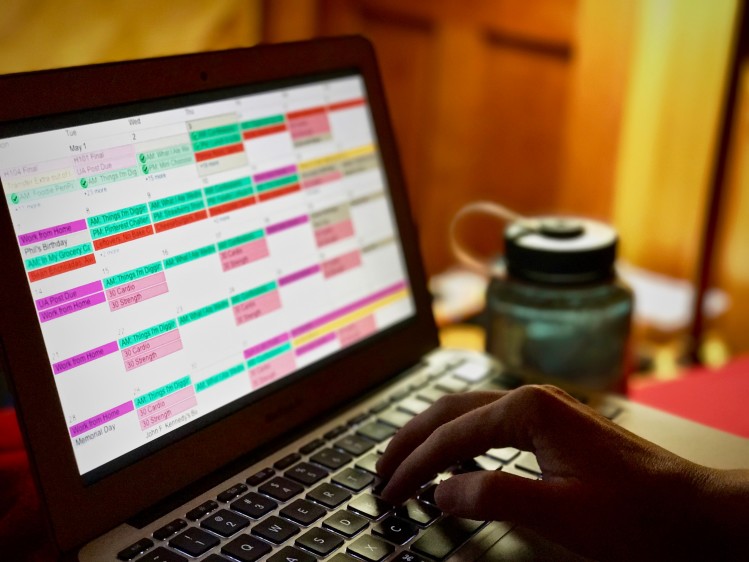 The workplace looks a bit different today for those who were used to going into an office just a few months ago. I feel proud that the Covid crisis has not impacted the location of where I work, since at Ideba we are all (and have always been) remote workers. The benefit of having been a remote worker for the past 5+ years has allowed me to unknowingly prepare for times like these.
It is evident that many companies spend a lot of time shuffling from Zoom meeting to Zoom meeting. Zoom fatigue much? I wonder if those are face to face meetings that are being replaced by virtual meetings, or if they are just meetings for the sake of having meetings. The problem I see is that going from meeting to meeting, virtual or not, prevents you from getting your actual work done. It results in your email flooding to the max, and not being able to manage the responses in a timely manner. That causes frustration for you and for the people who are waiting for you to reply.
I find that a key to success of working in a remote environment, especially if you are going from meeting to meeting, is managing your calendar and blocking off time at the start and the end of your day to process your emails. And I don't mean hitting delete on everything you received to clear your inbox. Block off the first thirty minutes to one hour of your day and do the same at the end of the day. That will hopefully avoid a meeting from being scheduled and will allow you to simply focus on replying to emails and getting organized with no other distractions. If you did that every day, you would be replying to people within 24-hours, which is the acceptable and expected response time. You would also have less emails in your flooded inbox. The calendar feature is also great for setting up reminders, so you can remember to follow-up on items that you have pending, et cetera. I also rely heavily on folders within my email box. It helps to remain organized and find things easily when needed, instead of searching through a cluttered inbox using key words that may or may not locate what you're looking for. As soon as I reply to an email, the original email gets filed into its proper folder.
When I leave my desk at the end of every day, you can see my entire inbox on one screen, and nothing goes unaddressed. That is the key to my own personal sanity. We all have distractions around us, especially when hopping from one meeting to the next. It is your responsibility to find ways to set yourself up for success, so you don't end up dropping the ball.
Still having trouble providing timely responses? Check out a blog I wrote last year on ways to improve your response times.
Do you have any best practices of how to manage working remotely, while being efficient and effective with your time, addressing emails in a timely manner? Send me a note at jennaw@idebamarketing.com. I'd love to hear your thoughts!
– Jenna Whelan, Vice President, Consulting & Research Services
https://idebamarketing.com/wp-content/uploads/2020/06/pencil-it-in_t20_a7KJOE.jpg
562
749
Jenna Whelan
https://idebamarketing.com/wp-content/uploads/2022/10/Ideba-logo-new-130x53-1.png
Jenna Whelan
2020-06-30 11:51:04
2020-06-30 11:51:06
Scheduling for Remote Working Success