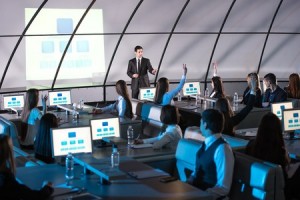 You have an upcoming presentation. You sit down to write it and what do you ask yourself?
What do I want to say?
What do I want to convey?
Wrong. The question you should be asking yourself is, how do I make this about them? How do I get the audience to interact with me?
Presentations take on a richer, more dynamic life when you specifically allow for input from the group. Rather than having passive listeners, you create an environment of active listeners and a rock solid engaging, memorable presentation.
So how do you create interaction, transforming your presentation from you talking at an audience to the audience having a dialog with you?
Ask a question within the first five minutes. Don't hesitate. If you hesitate, your audience will too. Example: What do you want to get out of this presentation? What question do you want answered?
Expect Interaction. You give cues to your audience about whether they should get involved. Be careful not to ask yes or no questions. Ask questions with the word "why".
Smile! A warm smile, good eye contact and an open posture tell your audience they can trust you.
Invite participants up to share the stage with you. People like to talk and they like to feel smart, so share the platform with them.
Give opportunities for participants to talk with each other. This creates connection, community and ownership. Example: Ask your participants to turn to their neighbor and share a favorite experience or meaningful accomplishment.
Here are two tips that ensure your presentation lands with impact:
Even if speaking to a large audience, think of your presentation as a conversation. Incorporate the word "you" and use a conversational style voice.
Request technology be put away. If that is not possible, incorporate technology to engage your audience. For instance you can do instant polls with will cell phones. Visit polleverywhere.com to learn more.
When you make interaction the foundation of your presentation, the audience will answer key questions for themselves. They will have fun and learn. As Albert Einstein said "It is the supreme art of the teacher to awaken joy in creative expression and knowledge."
Feel free to leave a comment below and let us know if you have additional insights on the topic. Happy Presenting!
-Angie Crowe-Pranghofer, Strategist & Sr. Writer
https://idebamarketing.com/wp-content/uploads/2016/03/IDEBA_LOGO_125x49.png
0
0
Aaron B
https://idebamarketing.com/wp-content/uploads/2016/03/IDEBA_LOGO_125x49.png
Aaron B
2015-02-24 00:41:10
2015-02-24 00:41:10
Your Presentation Is Not About You – 5 Tips for a Memorable Presentation