Why I Love International Exchange Programs (and I Haven't Even Left Yet)
In 3 short weeks, I will be boarding a plane to the Czech Republic where I will live and study for 4 months. Even as I write this, that sentence doesn't mean much to me because I can hardly believe it myself. I am so utterly unprepared for anything practical. I'm in the process of moving out of my apartment, I don't have power adaptors that will work over there, and I'm still waiting on my visa to arrive. But despite all of that, I'm excited by this new adventure and to see where it takes me.
I have traveled to Europe before, but never for such an extended period of time that I could reasonably say I was moving to Europe for the next 4 months. But, the plus side of 'moving' somewhere new is you get to live there. I know that sounds extremely obvious, but the point is that when you really live somewhere, you become a part of that community and culture. You're not merely a traveler passing through, you're a semi-permanent fixture that has a place and a purpose for being there.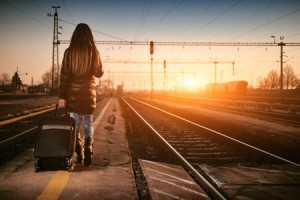 That is why I am so excited by the prospect of this international exchange program. When else do you have the opportunity to postpone your life back home to take on a whole other continent with virtually no repercussions for doing so? Giving university students the option of taking on a different part of the world is, in my opinion, one of the most valuable lessons you can provide. The world is literally your classroom. Even when you decide to hop on a bus to another city, instead of attending your Friday lecture, you're learning. Opening your eyes to different cultures and a new way of life is crucial to growing your understanding in our world that is becoming increasingly globalized every day.
I know I'm going to have days where I'm lost in a strange city, I don't understand the language and everything will seem very frustrating. But I'm certain I'll have more days where I'm learning something new, trying something for the first time, and making memories. It's already the best 4 months of my life, and it hasn't even started.
Do you have experience with exchange programs? Tell us about it!
– Kaila Joynes, Junior Consultant
https://idebamarketing.com/wp-content/uploads/2016/03/IDEBA_LOGO_125x49.png
0
0
Aaron B
https://idebamarketing.com/wp-content/uploads/2016/03/IDEBA_LOGO_125x49.png
Aaron B
2015-08-11 16:25:10
2017-03-14 08:03:55
Why I Love International Exchange Programs (and I Haven't Even Left Yet)