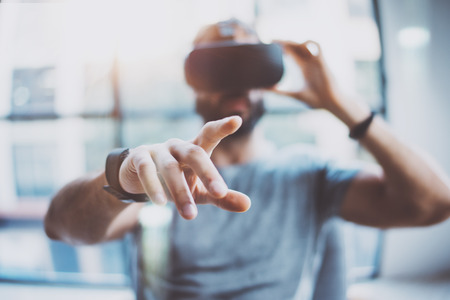 It's time for our annual report on VR progress.  It was a hot subject of speculation a few years ago before the massive push began in earnest.  We first blogged about it in 2015 and the big question was: will this be yet another failed push of VR technology that falls flat on its face?
Last year, in The Year of Virtual Reality Marketing, we followed up on successful product releases and marketing campaigns featuring immersive VR experiences.  But the question for us remained: is this just an early adoption push and will it last?  A year later, the evidence is clear and the answer is certain: VR is here to stay.
The numbers support continued growth with sustained development and investment. A recent MediaPost estimate trends the VR market toward the $60 billion mark over the next 4 years. It projects that new entrants in the 360-degree camera market will be a source of continued content growth.  The amount of companies in the market today according to the report is 460.
The demand growth potential persists as well.  In the UK, for example, only 10-20% of people there have experienced VR according to Dr. Wendy Powell in eMarketer leaving a large population to reach.  Another interesting point she makes is that VR costs are on a similar downward trajectory that PCs and cell phones were on as they headed toward mass market use. So, all signs point to a growing new marketplace with lower cost gear and content over the next few years.
We'd like to hear what you think about VR use and trends. Share your thoughts on LinkedIn or Twitter.
— Mark Salow, Marketing Consultant
https://idebamarketing.com/wp-content/uploads/2017/04/65933571_s.jpg
300
450
Aaron B
https://idebamarketing.com/wp-content/uploads/2016/03/IDEBA_LOGO_125x49.png
Aaron B
2017-04-18 13:31:30
2017-04-18 13:31:30
VR Is Here to Stay