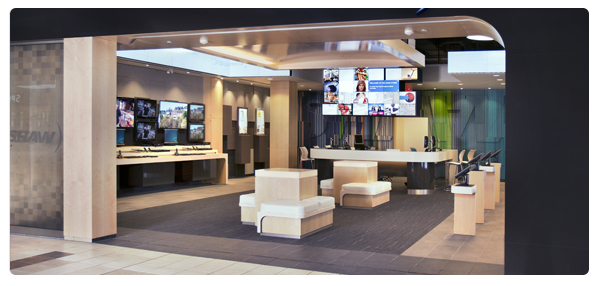 The retail marketplace has been changing for some time, with the surge of 'showrooming', price-matching, and social media influences. Companies have realized that in order to compete, they must offer above-and-beyond services and benefits for customers. I have recently switched most of my book and technology shopping online; purchasing new novels from Amazon.ca was easier and cheaper than visiting my local bookstore. I also purchased a replacement phone charger for $1, shipped for free from somewhere in Asia.
However, one service that I have kept local is my internet and cable. Local company Shaw recently opened a new store here in Victoria, which utilizes the benefits of technology and data without compromising the customer experience (http://www.shaw.ca/retail/). As soon as you walk in, a staff member with a tablet approaches, types in your customer information and requirements. This joins an automatic cue, and you are given an estimated waiting time. You then find a seat on one of their comfy couches, and enjoy the dozens of TV screens around the room showcasing Shaw products and services, movie previews and live Twitter feeds. A few minutes later you are called up to one of the customer representative desks, where your Shaw rep has been briefed on your needs and has your account pulled up and ready to go. Within a few minutes, everything is taken care of and you are on your way!
This is a great example of a company maintaining hands-on relationships with their customers, while still utilizing data and technology to improve efficiency and provide differentiation – something that companies will have to take on moving forward, if they want to compete in this dynamic retail marketplace.
Let's hear from you – how have your shopping habits changed? Do you still enjoy a hands-on, brick-and-mortar experience? What factors are important to you in the customer experience?
-Michelle Clarke, Consultant
https://idebamarketing.com/wp-content/uploads/2016/03/IDEBA_LOGO_125x49.png
0
0
Aaron B
https://idebamarketing.com/wp-content/uploads/2016/03/IDEBA_LOGO_125x49.png
Aaron B
2013-10-08 00:24:54
2013-10-08 00:24:54
The New Retail Experience