A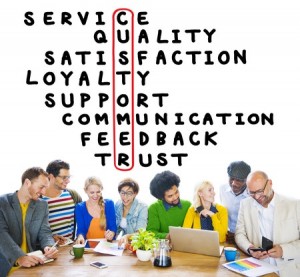 fter spending about 10 years working in the hospitality industry, I can't help but be extra critical when observing customer service (or lack thereof). 82% of people have stopped doing business with a company due to bad customer service. That is a huge number! 82 out of 100 people will not do business with a company that they experienced poor customer service with. You would think that statistics like this would encourage companies to up their game. I have been to restaurants that have amazing food and horrible service or vice versa. Would you continue to visit establishments that have given bad service?
I believe that sometimes things happen and people/companies deserve second chances. But, if they happen more than once, to me it's a pattern. After two negative experiences, I am normally not willing to try for a third.
A perfect example – I visited a restaurant close to my house that I had never been to. I had ordered my food through the restaurants online ordering. The confirmation said that the food would be ready in 30 minutes, so I waited 40 to go pick it up. When I got to the restaurant, they had no record of the order. I mentioned that I ordered online, and the person helping me explained that they have had issues with their online ordering. I didn't understand why they wouldn't solve the problem before continuing to allow people to order online, but at that moment I tried to ignore that thought. I was now frustrated that the order had to be re-submitted nearly 45 minutes after my original order and I would now have to wait another 20-30 minutes for the food to be ready. In any case, I proceeded to place the order and went to stand outside while I waited. At this point, I notice one of the restaurant servers sitting at the table in the window front. She had just served herself a nice meal and was eating in clear view of the restaurant, where every person walking in could see her. She would shove a handful of french fries in her mouth and then stand up to help the people that came in, while she was still chewing. She was serving tables too! In my opinion, this was absolutely disgusting.  45 minutes later, I walked inside to check on my food. When it was finally ready, the same server that was eating was the one to box my food. Needless to say, I took the food home and didn't eat a single bite. I was immediately ready to write off this restaurant, but then I took a moment to remember my experiences in the world of hospitality. Things happen, I kept telling myself. I knew that if I didn't tell someone about the experience, they would probably never know. When I was a manager in a hotel, I wanted to know if my guests had a bad experience. If you don't share your experience, how will anyone learn from it?
Now, I am not one to post on social media when I encounter a bad experience. I believe that everyone deserves second chances and blasting companies via the internet is no way to do business. So, I went to the restaurants website and found the email address for the owner of the restaurant. I emailed him directly explaining my experience, in hopes that it would help him in his business.  He immediately responded with a sincere apology, asking for some more specifics and ending by asking that I please give his restaurant a second chance. He refunded the amount of money that I had paid for my meal and also gave me a restaurant credit for a future meal. It took a lot of time for me to decide if I would visit this restaurant again. I was so disgusted with my experience, I wasn't sure that I wanted to chance it for a second time. But the email from the owner really sat with me. He had taken the time to listen to me (or read my email). He empathized and apologized for the experience. He reacted appropriately, in my opinion. So I felt it was only fair that I gave him the second chance that he asked for.
About 2 months later I placed an order, over the phone, at the same restaurant. I didn't want to risk the internet issue I encountered the first time. They told me that the food would be ready in about 30 minutes. Again, I waited 40. When I got to the restaurant, the line was out the door. I walked to the counter to pick up my order, and I was rudely informed by an employee that I needed to wait in the line that proceeded out the door. I tried to explain that I was picking up a to-go order, and was completely ignored. I went to the back of the line and stood there for 25 minutes until it was my turn. When I got to the counter and gave my name, I could not believe that my food wasn't ready. It had now been over an hour since I placed the order. If there were so many to-go orders, why didn't they quote a longer time? Why wasn't someone manning the line to separate those waiting for food versus those waiting for a table? I really wasn't sure how to react. I was irritated and starving. So many thoughts were going through my head. So, I patiently (or impatiently) waited for my food.
While I waited, I couldn't help but observe the employees. Their attitudes were horrible which caught my attention from the beginning when I first approached the counter. There were really many things wrong with this place! The person working the register was brand new. She didn't know how to ring up the most basic item. She had to ask a colleague for help with every single order. I truly felt bad for her. She was set up for complete failure. Every time she would ask for help, the other employees would either make a rude comment to her or slam something on the counter in frustration of her question. I was so embarrassed for the way they were behaving. They complained about their boss, loud enough for me to hear. Where was the boss, by the way? This place was a zoo and there was no manager around to help? No wonder the employees were acting the way they were. They didn't respect their boss. Maybe the boss didn't deserve their respect. After all, the place is completely slammed and the manager should be there supporting the staff, right? The employees complained about each other and they complained about all of the people that were waiting in line. It was such a shame. It took everything I had to not walk out and send another email to the owner.
About 15 minutes later, my order was ready. By the time I had gotten home with the food, I didn't even want to eat it. Again, a complete waste. I spent some thinking about what to do next. I had a bad experience once and told the owner about it. For the second poor experience, was I supposed to do the same thing? I decided that I wasn't going to waste any more of my time. I stuck with the rule that was in my head of allowing second chances. After that second chance, I completely wrote this restaurant off. I will never visit it again nor will I ever recommend it to anyone, ever. I appreciated that the owner had cared enough the first time, but now I didn't care. I became an actively disengaged customer.
So, back to my original stat about 82% of people not doing business with a place that provided poor customer service. To think that if there were 100 people in that line with me, only 18 might have gone back. That is really sad for these businesses.
95% of people share their bad experiences with others, whereas 87% of people share their positive experiences. For my next blog, perhaps I will join the 87% and share a positive customer service experience.
We want to hear from you. Share your customer service experiences with us…. Good, bad or ugly!
– Jenna Fuchs, Consultant
https://idebamarketing.com/wp-content/uploads/2016/03/IDEBA_LOGO_125x49.png
0
0
Aaron B
https://idebamarketing.com/wp-content/uploads/2016/03/IDEBA_LOGO_125x49.png
Aaron B
2015-08-18 15:31:41
2017-03-14 08:03:45
The good, the bad and the ugly… of customer service