Having worked in the luxury hotel industry for several years, I've come across a ton of celebrities. When I first started in the industry, I was 19 ye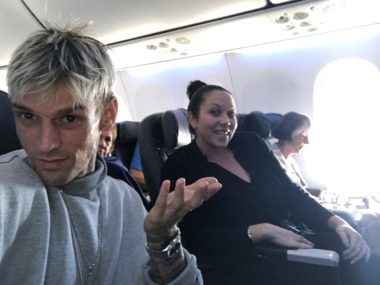 ars old. I was overly excited every time I saw someone who was even remotely famous. The hotel set many boundaries for when you spot a celebrity, so I was always discouraged and felt like I couldn't even make eye contact without getting myself in trouble.
I have been traveling for work quite a bit lately and have been so zoned into my computer that I have a bad tendency of ignoring my surroundings. Little did I know, that was going to change. On this particular flight, the flight attendant came over the speaker (which I admittedly tune out) …. until I started to hear singing. It was a voice that I recognized but couldn't figure it out. This wasn't just anyone singing – believe it or not, it was Aaron Carter.
Funny enough, Aaron ended up sitting right next to me. He was one of the nicest people I've ever met. He was personable and friendly. Entertained the flight with his voice and even stopped to take pictures and live stream on Instagram. He shared some of his experiences with me. Like when he performed with Michael Jackson in NYC on September 10th 2001. He was there on 9/11 and personally watched the Twin Towers get taken down. I even got to touch the "thank you" letter that MJ personally sent to Aaron in 2001, after they performed together. He also showed me a picture of his fan mail from Taylor Swift back when she was a teenager (and had an AOL email address that she left as her contact information). We talked about vacations and our favorite destinations to travel to. We actually shared a couple of the same faves. Maybe our paths will cross again some time.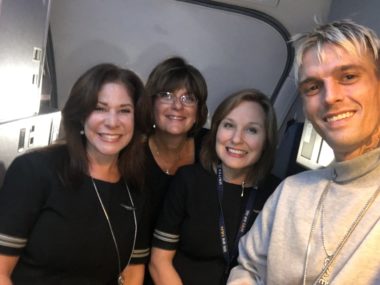 I wouldn't mind being on another flight with Aaron. He sang any time we hit turbulence, which helped me ignore the fact that there was turbulence to begin with.
Half way through the flight, people started approaching Aaron asking for pictures with him. Without skipping a beat, he got out of his seat and made his way down the plane to snap tons of selfies with anyone who asked. He even thanked every person for being so nice to him, noting that he constantly deals with people throwing shade.
This just goes to show you that celebs are real people too. Maybe they aren't all as friendly as Aaron, but they are as normal as you and I. Next time I fly, I am committed to paying more attention to my surroundings. You never know who you're going to meet.
If you could choose anyone, who would you want to sit next to you on your next flight?
–Jenna Fuchs, Consultant
https://idebamarketing.com/wp-content/uploads/2017/08/AC-1.jpg
2320
3088
Jenna Whelan
https://idebamarketing.com/wp-content/uploads/2016/03/IDEBA_LOGO_125x49.png
Jenna Whelan
2017-08-29 10:15:37
2017-08-29 10:17:07
Sitting With a Celebrity