As 2015 winds down, some people might say it's a great time to reflect on the past year. While I don't disagree, I think it's more fun to guess at what 2016 holds. Below are predictions for the new year that have caught my attention paired with my thoughts/comments about each one (italics).
Microsoft has several interesting predictions for 2016 (link) 
According to Lili Cheng, "More kids' first jobs will be virtual rather than in a physical place." – I'm curious what types of jobs these will be and if anyone is researching this. I would love to see numbers.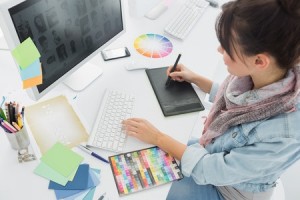 Bill Buxton believes that "stylus-based drawing, annotation and note-taking will assume a broadly supported and appropriate place in the mosaic of how we interact with digital devices." – I love the concept of a stylus, but I am personally more likely to use pencil and paper.
Eric Horvitz states that in regard to AI we will see "Personal assistants become more genuinely helpful by understanding such important things in peoples' lives as the tasks they work on and the commitments they make to others." – I had Cortana on my phone but didn't get into the habit of using it. Maybe this is the year.
FORTUNE has a wide range of interesting predictions (link)
Erin Griffith is predicting that a digital media startup will buy an established old media company. – This seems very likely to me. I still prefer to read my magazines in print form—I am a designer, after all—and I believe that there is still a valuable place for old media and readers that new-media has yet to reach.
Rober Hackett claims that a "trusted name in security will be utterly and embarrassingly hacked in 2016." –  I truly hope this prediction is wrong, but with the number of major cyber breaches this year (including the recent T-Mobile/Experian debacle) it seems possible. I hope that cyber security firms manage to stay ahead of the hackers.
 The American College of Sports Medicine (ACSM) (link)
Based on their annual survey ACSM predicts that "wearable technology will be the top trend in fitness next year." – I have a love/hate relationship with my fitness tracker, but it's likely that quite a few people will give them a shot this year.
Regardless of the accuracy of these predictions, I'm looking forward to 2016 and all of the interesting things that will happen that no one is even thinking about yet.
—Aaron Baldwin, Designer
https://idebamarketing.com/wp-content/uploads/2016/03/IDEBA_LOGO_125x49.png
0
0
Aaron B
https://idebamarketing.com/wp-content/uploads/2016/03/IDEBA_LOGO_125x49.png
Aaron B
2015-12-15 14:04:50
2017-03-14 07:57:31
Peering Through Time (into 2016)