Marketing & Sales Training in Uganda
In 1995, I landed my first job in direct marketing. The agency President (an Elvis lookalike and super cool guy) walked into my office on day one, and placed a book on the desk in front of me… "Successful Direct Marketing" by Bob Stone – considered to this day by many to be the "bible" of direct marketing.
That book ate up every minute of my first week, and I've carried one valuable lesson from that read with me, ever since. When Marketing, focus on "audience" first, "offer" second, and "creative/message" third. I've used those rules over the years to help create and direct highly successful marketing campaigns for Fortune 100 companies, but also to help identify great creative talent – who understand that the best creative/messaging is useless, when in the wrong hands.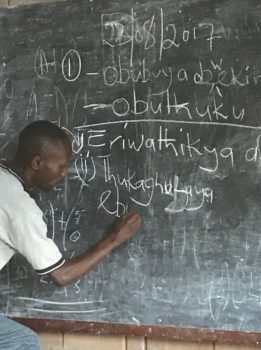 Fast-forward 32 years to last week, when I was in Uganda, helping two tailors that run a sewing class at a school Ideba supports…to help get their garment manufacturing business up and running. The lesson was a simple one (you've guessed it):
Step one           Identify your audience. In this case, schools within a 3-mile radius of the school, where there is an existing Administrator-to-Administrator relationship
Step two           Identify your offer. High quality uniforms, delivered on time, at a fixed price
Step three         Identify your key message. Funds from uniform sales would be invested back into the school 100% — a solid message for an audience passionate about education
Having figured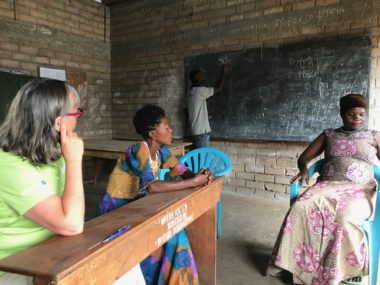 out the Swahili translation and interpretation for a simple flyer and key messages, we worked one-on-one with the tailors on their presentation, questions to expect from prospects; and roll-playing over a two day period, until they had nailed it. They are due to visit several school administrators over the next few weeks – ideally securing some initial contracts that will help build momentum for their business, and drive much needed revenues for the school, with a long-term goal of the school becoming self-sufficient over time.
In addition to the tremendous sense of fulfillment knowing that we've given the tailors the confidence to go out and sell, it was pretty neat to step back, and reflect on the fact that despite technology advances, and the tremendous differences that exist between Western culture and African culture, that Bob Stones' principles hold true to this day. As for the book, I'd still highly recommend it.
I'd love to hear from you, if you have any valuable lessons learned from years gone by, that you are still applying today. Please drop me a line at davids@idebamarketing.com
David Sly, President. Passionate about Education
https://idebamarketing.com/wp-content/uploads/2017/09/Sewing-2.jpg
2016
1504
Jenna Whelan
https://idebamarketing.com/wp-content/uploads/2016/03/IDEBA_LOGO_125x49.png
Jenna Whelan
2017-09-05 07:36:42
2017-09-05 07:36:42
Marketing & Sales Training in Uganda