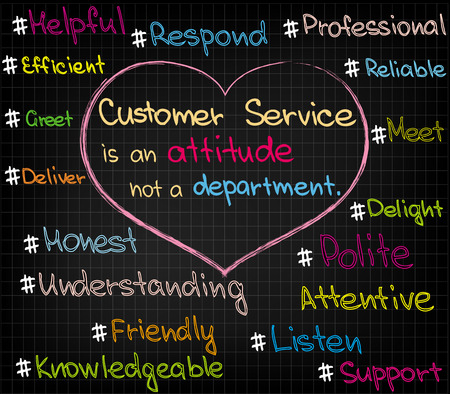 I am a big advocate for good customer service. Shocking, I know. Of course, nobody wants bad customer service and nobody wants to feel like the company they are supporting doesn't care about their needs. That being said, I think you can easily spot the customers who have been on the other side and worked in a customer-facing role, and those who have not. As someone who has worked exclusively in customer-facing roles in the past, in fast food, retail and in a customer call center, I pride myself on my ability to serve each customer with a smile, a positive attitude and to be as helpful as I can. And that's not even going above and beyond—that is literally my job.
Because I've "been there, done that", maybe I expect a higher level of service when dealing with employees who are in the same roles that I once held. In my mind, if I can get through a day being courteous, polite and really listening to whatever each and every customer is complaining about or asking for, so can you.
Naturally, people have bad days and that's understandable but 99% of the time the service should be at a certain standard. However, often it's not. For that reason, there is nothing at which I procrastinate more than calling a customer service representative. I dread it with every single piece of my being because time after time I've found myself on phone calls with reps who clearly don't care about what issue I'm experiencing and time after time I find myself falling into my own customer service role and trying to appease them.
So, when a package arrived last week of Christmas gifts I had ordered, I was more than a little dismayed that one of my items was broken. It was made of glass, and packed well so it was simply an accident and I wasn't even upset about it being broken because I knew it could be rectified. All I had to do was call customer service.
I procrastinated for a few hours and finally got around to dialing the number on the box. When I was connected after a very short wait, a nice gentleman picked up and once I mentioned my broken item, he immediately and genuinely apologized for it happening. From that point on, he chatted with me, looked into my order and assured me a brand new item would be on its way with premium shipping. In less than 10 minutes, I was off the phone and had a confirmation email that my replacement order had been processed. At every point, he met or exceeded my (admittedly high) expectations.
This quick and painless customer service experience left me a happy customer and gave me an even better impression of the company and the brand. At the end of the day the old adage applies: treat customers the way you want to be treated. I was impressed with how quickly and efficiently my complaint was handled and that makes me more likely to buy from the same company again in the future. Building customer loyalty starts at the front lines with who your customers interact with, but that is a topic for another time.
What are you best or worst customer service stories? Join the discussion on LinkedIn or Twitter.
-Kaila Joynes, Junior Consultant
https://idebamarketing.com/wp-content/uploads/2016/12/47784724_s.jpg
394
450
Aaron B
https://idebamarketing.com/wp-content/uploads/2016/03/IDEBA_LOGO_125x49.png
Aaron B
2016-12-20 10:08:39
2016-12-20 10:14:11
Great Expectations