Change Your Mentality, Change Your Life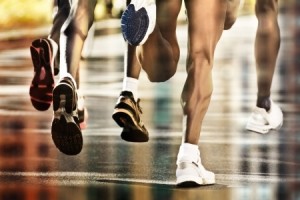 I started off this year, like most, with a goal of eating healthier and spending more time exercising. I realized that I always had the same goal, but my results were not appearing as I had expected. As most people do, I had hoped that I would see my results instantly. In hindsight, I have realized that is obviously not a realistic expectation. After four months of eating healthy and constant exercising, it occurred to me that the reason I had never seen the results I wanted in the past was because I always gave up after about a month or so. I was always hoping for a quick change with quick results. I realize that was my failure. I needed to make a lifestyle change. This wasn't something that I could do for a month and then go back to my old ways. I needed to be motivated, dedicated and ready to change my lifestyle. I needed a way to stick with it.
Some people work out and love it. I, however, did not. Running seemed like a chore to me. Nevertheless, I decided to sign up for a half marathon. I had done two last year, but had not put in the time nor effort to effectively train. I successfully finished both races, which really just meant crossing the finish line. To some, that may be ok. I didn't really feel a sense of accomplishment. I was proud that I had finished the race, but I knew deep inside that it wasn't good enough. This time, I needed to do something different. I searched for a half marathon training plan and went with it. I followed it as best as possible, as if the plan were my training partner that I could not let down. For this race, I didn't even stop at the water stations. I ran the entire 13.1 miles and managed to take 30 minutes off of my time from the race I had done just 6 months before. It had occurred to me that if I had a race in mind, I would push myself to stay committed. Without that, I would give up. When I finished the race, I went home to see what I could sign up for next. Although this half marathon made me feel accomplished and really satisfied, I just didn't know that I wanted to do another race that long. I have swam in many triathlon relays, in addition to a few full sprints and an Olympic distance on my own. These were years ago, again with no real training. Anyway, I decided to bite the bullet and signed up for a triathlon relay with my two best friends. We grew up swimming together and we also played water polo. We have been friends for over 20 years and just completed our first triathlon relay together. We even managed to come in second place! The race was incredible! So many athletes from all over the world and quite possibly even more spectators and volunteers.
Honestly, if you need a little bit of motivation, go observe one of these races. We were so inspired that we each signed up to complete sprint distances (750 meter swim, 13 mile bike, 3.1 mile run) on our own in June, July, August and September. Having a good support system is extremely critical. It definitely helps me with accountability because I know that I can't let them down! We look forward to sharing this journey as we train, race and eat healthy together for as long as we can.
I was in a hotel gym a few weeks ago. On the wall it said, "Laziness fuels more laziness. Activity fuels more activity". Think about that the next time you don't want to get off the couch. It's that easy. I am in it for the long haul and cannot wait to see how far I can push myself. In the past four months, I have managed to lose a little over 20 pounds. If I can do it, believe me, so can you. Make the change!
Do you have a story that you want to share? We would love to hear it!
-Jenna Fuchs, Consultant
https://idebamarketing.com/wp-content/uploads/2016/03/IDEBA_LOGO_125x49.png
0
0
Aaron B
https://idebamarketing.com/wp-content/uploads/2016/03/IDEBA_LOGO_125x49.png
Aaron B
2015-04-27 23:38:21
2017-03-14 08:04:17
Change Your Mentality, Change Your Life